Jeff Pippen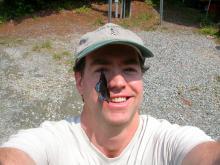 Current Affiliation:
Indepedent
Google Scholar Link:
CV:
Interests:
Jeff is an expert in butterfly ecology and is currently on the board of the North American Lepidopterist Society. He's a former faculty member at Duke University where he conducted research on forest ecology and climate change; taught courses in ecology, forestry, and wildlife surveys; and coordinated and conducted bird, herp, and butterfly surveys in the Duke Forest and across North Carolina. He currently is a co-coordinator of the North American Butterfly Monitoring Network and our lead coordinator for PollardBase.
Favorite Links: