Mariana Abarca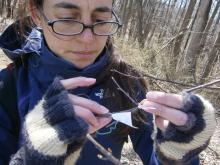 Role:
Research Assistant Professor
Current Affiliation:
Smith College
Interests:
Ecology, phenology, plant-insect interactions, climate change and natural history (I like studying how caterpillars eat and get eaten). Mariana started a tenure-track assistant professorship at Smith College in July 2021! Congrats Mariana - we couldn't be more proud!!
Publications
2021
Abarca, M., & Spahn, R. (2021). Direct and indirect effects of altered temperature regimes and phenological mismatches on insect populations. Current opinion in insect science, 47, 67-74.
2020
Abarca, M., Lill, J. T., & Weiss, M. R. (2020). Host Plant and Thermal Stress Induce Supernumerary Instars in Caterpillars. Environmental entomology, 49(1), 123-131.
2019
Abarca, M., E.A. Larsen, and L. Ries. (2019). Heatwaves and Novel Host Consumption Increase Overwinter Mortality of an Imperiled Wetland Butterfly. Front. Ecol. Evol. 7: 193. doi: 10.3389/fevo.
Abarca, M. (2019). Herbivore seasonality responds to conflicting cues: Untangling the effects of host, temperature, and photoperiod. PLoS ONE, 14(9).
2018
Abarca, M., Lill, J. T., & Frank-Bolton, P. (2018). Latitudinal variation in responses of a forest herbivore and its egg parasitoids to experimental warming. Oecologia, 186(3), 869-881.
Abarca, M., E. Larsen, J.T. Lill, M. Weiss, E. Lind, L. Ries. 2018. Inclusion of host quality data improves predictions of herbivore phenology. Entomologia Experimentalis et Applicata 166 (8), 648-660