Naresh Neupane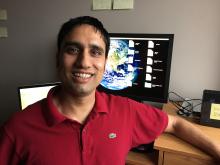 Role:
Research Assistant Professor
Current Affiliation:
Georgetown University
Interests:
My interests lie in exploring the impacts of global warming upon the physical and biological components of the earth system. Currently, I am working on understanding the population size and distribution of butterfly in the future under various global warming scenarios. My past researches were mainly focused on understanding the response of the West African monsoon system to the global warming.
Publications
2019
Saunders, S.P., L. Ries, N. Neupane, M. I. Ramirez, E.Garcia-Serrano, E. Rendon-Salinas, E.F. Zipkin. 2019. Multi-scale seasonal factors drive the size of winter monarch colonies. Proceedings of the National Academy of Sciences. 201805114
2018
Ries, L., N. Neupane, K. A. Baum, E. F. Zipkin. (2018). Flying through hurricane central: impacts of hurricanes on migrants with a focus on monarch butterflies. Animal Migration 5(1): 94-103..